Fall is here and winter is around the corner! I am so stoked to have gotten my son's first pair of REAL moccasins made by Faas Design-one of the leading baby and child moccasin companies around.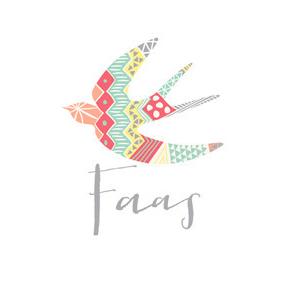 All Faas Design moccasins are made out of Genuine Leather and Wool Felt. All moccasins are handcrafted with love in Michigan, USA.
FAAS moccasins are especially designed to fit snug around the child's feet as they all have an elastic at the opening and are easy to put on and easy to take off. All Moccasins are made with a soft sole that is wonderful for Newbies, crawlers and for those who love to explore the world on their own feet.
My son's pair of Faas Design moccasins arrived in this cute little baggie with the adorable Faas logo. I couldn't wait to open them!
I chose the grey felt moccasins to review. I love grey, hence my son's name: Greyson. I also wanted a color that goes with practically every outfit. But don't worry-Faas offers so many designs and colors to suit your desires. They even offer boots!
The bottom of our moccasins are made with a soft sole to enhance the walking of small children, since they learn best by being barefoot-this is about the closest that you can get, with wearing shoes!
The quality of these moccasins are super high. My son crawled in them, stood in them, and played with them. I think I caught him even chewing on them at one point and no wear and tear.
These moccasins were also super easy to put on as they stretch around the foot. This makes getting out of the door a breeze and I can only imagine for comfy they are to my son!
I loved these moccasins for my son! Actually, I adored each and every single moccasin pair that I saw on the Faas Design website. They even make some adorable ones for little girls as well!
To connect with FAAS Design, check out their Facebook page & Instagram for the latest news, coupon codes and popup sales,
Disclosure: I was given a pair of moccasins to test, at no cost. All opinions are my own.