Melt your saddlebags in these 6 moves!
Saddlebag Blaster Workout
Perform a reverse lunge with your back leg slightly at an angle.

Leap to the side and bring the opposite leg behind you, only tapping your toe to the ground.

Immediately jump back the other direction and continue alternating until you feel the burn.

Form check: Keep your knees bent and stay as low as possible to really work your quads.
Lie on your right side with your right upper arm on the floor and your head resting on your right hand.

With knees straight, bend at your hips so your legs and torso form a slight angle.

Raise your left leg 6 to 8 inches and make 10 small forward circles from the hip, raising the leg higher with each one.

From the highest point, make 10 more small circles in the other direction as you lower the leg to start.

Repeat with opposite leg.
Place your body on an all-fours position. Elbows should be slightly bent.

Back should be parallel to the ground, not arched or swayed downward.

Keeping the kneeling position raise left leg out to the side, parallel to the ground. Maintain for a second and slowly return to the initial position.

Repeat movement with same leg until set is finished. Repeat the exercise using the right leg.
Stand with your feet wider than hip-width apart, toes slightly turned out, holding a medicine ball in front of your chest.

Squat down as low as you can, keeping your heels on the ground and your back straight.

Press back up to standing. That's one rep.
Stand in front of a plyo box or a large step with either a barbell positioned on your upper back shoulders or dumbbells in your hands and down by your sides.

Place one foot completely atop the box or step.

Drive off that lead foot to lift your entire body up onto the box or step, driving the knee of your trail leg up to your chest.

Keep your initial foot atop the box or step and lower your body back to the floor.

Perform all repetitions on one leg before switching to the opposite leg.
Lying on your side on a mat, have one arm bent and resting underneath your head. Your other arm should be in front of your body palm facing down on the mat.Legs should both be straight, with your bottom leg touching the mat, and your top leg about 1 foot above the bottom leg.

Once in this position, bring your bottom leg up off the mat to meet your top leg.

Hold for 2 seconds and return both legs together to the mat to complete one rep.
If you cannot make it to a gym and need to workout from home, try my new Strong Body Guide that is helping busy women worldwide get into their best shape ever. Little to no equipment needed for most moves!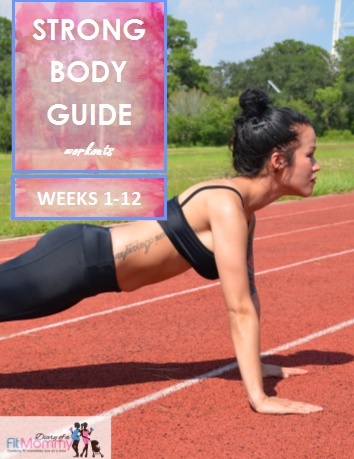 Buy now
In this guide, you can expect:
–
12 weeks of workouts that can be done at home with little to no equipment.
–
225 pages long
–
Each workout takes less than 30 minutes-great for busy schedules.
–
step by step instructional picture examples of every move
–
no gym required
–
exercises focus on hiit, strength training, and plymetrics
–
download on any device
–
build a lean tone stomach, butt, thighs, and arms
–
download instantly from anywhere
–
promote fat loss & boost metabolism
–
contains cardio and stretching routines as well!
–
full exercise glossary with images and instructions for every move
*All guides are digital ebooks available instantly worldwide. Compatible on all devices – Android, iPhone, iPad, Kindle, Nook, Computer, Mac.