When trying to eat clean, food prepping is one of my best tips to do so. When your food is already ready to go, its hard to say no. Hence, why we jump quickly at the thought of fast food. I set out one day per week to do my prepping which is usually Sunday. Why one day? Well, in order to cook several meals, it takes some time.
Meal prepping also comes in handy when I am busy chasing around my now crawling 8 month old! It just makes life so much easier!
The best prepped meal, to me, has always been the ever boring chicken breasts or fish, broccoli, and brown rice. Why? It works! However, thanks to some fancy seasonings out there, I am not so bored with the meals anymore.
It used to take me about 3 hours to prep even this simple meal. However, I decided to start skipping steps and cook them together and now it takes me maybe 90 minutes or so.
Here is what I did to cut my time in half because, let's face it, nobody wants to spend an entire Sunday cooking:
Wash your broccoli. I love using fresh broccoli and then separating the florets.

Boil your brown rice. I usually boil about 2 cups.

As my rice is boiling, I will throw some boneless, skinless chicken breasts on my George Foreman grill (if you do not have one, just bake them in the oven) seasoned with Mrs Dash and Lemon Pepper.

Once the rice is done, I will set it to the side. It is done! YAY.

Once the chicken is complete, I will chop it up into smaller bits and throw it into a skillet with 1/2 cup of water, more seasonings, and then add the broccoli.

I will cook the chicken and broccoli together for maybe 5-7 minutes on medium. *If you choose fish, just bake it in the oven.

Once the broccoli and chicken mixture is cooked, I will divide it amongst several tupperware containers, along with the rice.

That is it.
Here are some things to do before you start meal prepping:
Plan. My meal prep days are usually Sundays because of the amount of down time I have to complete it. Set aside at least 2 hours-or more, especially if you are a slow cooker or are new to cooking in large batches. Plan out your meals-a protein, a starch, and a veggie-however you want to do it!
Make a list. Write down everything you will need to meal prep for the week. Choose clean, healthy, and nutritious foods.
Go shopping. Once you have your list made, you can go to the store and get what you need. Stick to the plan, stick to your list. Do not give in to the Cheetos when they scream at you. Better yet, don't even go down those tempting aisles! Stay far, fary away.


Prep & cook. Once home, you can begin right away or on your designated meal prepping day. Prep and cook your meals and place them in their containers or freeze them, if you wish. Always date your meals.
For those who have asked, here's where my meal prep containers come from (seen above):
If you cannot make it to a gym and need to workout from home, try my new Strong Body Guide that is helping busy women worldwide get into their best shape ever. Little to no equipment needed for most moves!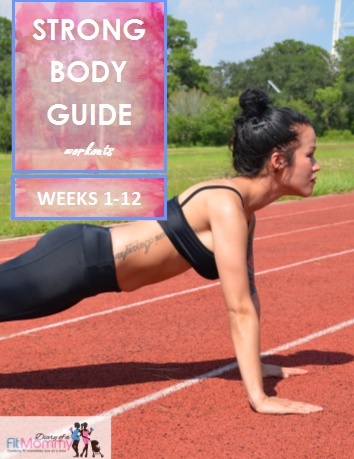 Buy now
In this guide, you can expect:
–
12 weeks of workouts that can be done at home with little to no equipment.
–
225 pages long
–
Each workout takes less than 30 minutes-great for busy schedules.
–
step by step instructional picture examples of every move
–
no gym required
–
exercises focus on hiit, strength training, and plymetrics
–
download on any device
–
build a lean tone stomach, butt, thighs, and arms
–
download instantly from anywhere
–
promote fat loss & boost metabolism
–
contains cardio and stretching routines as well!
–
full exercise glossary with images and instructions for every move
*All guides are digital ebooks available instantly worldwide. Compatible on all devices – Android, iPhone, iPad, Kindle, Nook, Computer, Mac.