Thighs. What a problem area to some women! Sometimes, it seems that no matter what you do, this typical area cannot be toned or tightened. However, that is not the case. As women, our hormones allow us to become more predisposed to storing fat around our midsection, hips, buttocks, and THIGHS! With a clean diet low in processed foods and the right exercises, you can help overcome the appearance of "thunder thighs."
There is no way to spot reduce. I know what you are thinking. Yes, that is true. However, there are specific exercises out there to tone your entire thighs-including the inside!
Also, be sure to follow me on Instagram and my Facebook page for free recipes, diet tips, workout videos, and motivation.
Thunder Thigh Thinning Circuit
Directions: Warm up with five minutes of light cardio, then repeat each three-exercise circuit three times. Cool down with five minutes of stretching or walking.


Stand with your feet wider than hip-width apart, toes slightly turned out, holding a medicine ball in front of your chest.

Squat down as low as you can, keeping your heels on the ground and your back straight.

Press back up to standing. That's one rep.
Place your body on an all-fours position. Elbows should be slightly bent.

Back should be parallel to the ground, not arched or swayed downward.

Keeping the kneeling position raise left leg out to the side, parallel to the ground. Maintain for a second and slowly return to the initial position.

Repeat movement with same leg until set is finished. Repeat the exercise using the right leg.
Lie on your left side, flat against the floor.Rest your head on your left upper arm.

Bend your right (top) leg at the knee and cross over in front of left leg. Rest your right arm on your right hip.

Keep your left leg straight. Using inner thigh muscle (adductor), lift left leg 6 inches off floor. Keep left toe in flexed position (not a pointed position). Exhale (breathe out) as you lift your leg.

Using resistance with the inner thigh muscle (not gravity), slowly lower your leg. Inhale (breathe in) as you lower your leg.

Repeat entire sequence on your right side, step 1-9 (working right adductor muscle).
Perform a reverse lunge with your back leg slightly at an angle.

Leap to the side and bring the opposite leg behind you, only tapping your toe to the ground.

Immediately jump back the other direction and continue alternating until you feel the burn.

Form check: Keep your knees bent and stay as low as possible to really work your quads.
Stand with feet slightly wider than shoulder-width apart with toes turned out, holding lighter dumbbells vertically in front of thighs.

Keeping abs tight and torso tall, bend knees 90 degrees; keep knees aligned between second and third toes and weight in heels.

Press back to start; squeeze your glutes.
Lie on your left side with your legs extended and on top of each other.

Bend your left arm and place it under your head for support and place your right hand on the floor in front of you.

Engage your abdominals and glutes and raise your right leg up about 30 degrees and hold it in this position.

Lift your left leg off the floor and bring it up toward your right leg.

Pause two seconds and slowly return both legs to the starting position.

Switch sides.
Stand with dumbbells grasped to sides facing side of bench.

Place foot of first leg on bench. Stand on bench by extending hip and knee of first leg and place foot of second leg on bench.

Step down with second leg by flexing hip and knee of first leg.

Return to original standing position by placing foot of first leg to floor.

Repeat first step with opposite leg alternating first steps between legs
Stand with your feet and knees together.

Take a large step with your right foot to the right side and lunge toward the floor.

Make sure your right knee does not extend past your toes and keep your left leg relatively straight.

Push off through your right foot to return to the start to complete one.

Repeat with other leg.
Start in a standing position with legs hip distance apart.

Bring your right leg behind you into a curtsy position, getting as low down to the ground as you can.

Then stand back up.

Do the same thing again with the left leg.
If you cannot make it to a gym and need to workout from home, try my new Strong Body Guide that is helping busy women worldwide get into their best shape ever. Little to no equipment needed for most moves!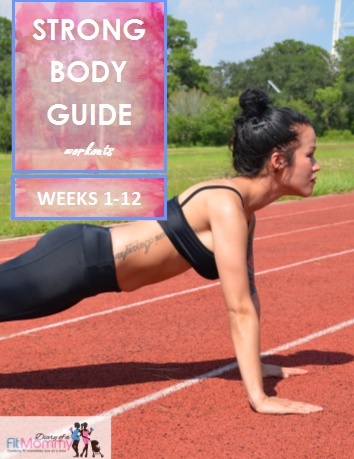 Buy now
In this guide, you can expect:
–
12 weeks of workouts that can be done at home with little to no equipment.
–
225 pages long
–
Each workout takes less than 30 minutes-great for busy schedules.
–
step by step instructional picture examples of every move
–
no gym required
–
exercises focus on hiit, strength training, and plymetrics
–
download on any device
–
build a lean tone stomach, butt, thighs, and arms
–
download instantly from anywhere
–
promote fat loss & boost metabolism
–
contains cardio and stretching routines as well!
–
full exercise glossary with images and instructions for every move
*All guides are digital ebooks available instantly worldwide. Compatible on all devices – Android, iPhone, iPad, Kindle, Nook, Computer, Mac.